Cairns Dining Articles
Ordering Wine at Restaurants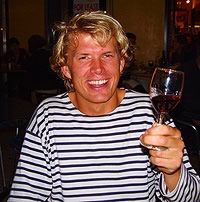 Ordering a bottle of wine (or two … or three) at a licensed restaurant can be a richly satisfying part of the dining experience. It can also be an expensive part of the dining experience, so you need to make sure the right decisions are made. If the wine you order fails to meet your expectations, your overall appreciation of the meal will falter.
When the waiter or waitress brings the menu to your table a wine list will also be handed to the senior male at the table. This is a customary procedure so don't bother being offended by this patriarchal display. Sometimes the waiter or waitress will ask who is making the wine decision to avoid ruffling the feathers – this is always a good sign that the restaurant is progressive.
Conventional wisdom tells us red wines are for red meat and tomato sauces, and white wines are for lighter dishes such as fish and foods with creamy sauces. While this method is a good guide, you shouldn't rely on it as gospel. Keep in mind the temperature of the restaurant – on tropical nights a chilled white wine is often preferred. And it's also better to go with the type of wine you actually enjoy, rather than stick to the old rulebook. If you like red, just get red.
If you have trouble selecting a wine, there is no shame in asking your waiter or waitress for a recommendation.
An important step when choosing your wine is the taste test. No more than one third of a glass should be poured for you, and this will be used to base your acceptance or refusal of the wine. Take the glass and gently swirl it around. This will release the wine's aroma for your examination.
When you taste the wine, sip it gently into your mouth and allowing the aroma to waft up into your nose. Don't swallow the wine straight away – some flavours won't take hold of your taste buds immediately.
If you like the wine, great! If not, you can refuse it. However, it is highly unlikely you'll have to refuse a bottle of wine from a restaurant because they usually only carry a selection that is high in quality and has a good reputation.
You wine is an important part of the meal. Make a toast to the good life and be pampered by the restaurant staff.
Enjoy.
Oh, and by the way. If you're interested in locally produced fruit wine, check out the Shannonvale Tropical Fruit Wine Company in Port Douglas and Golden Drop Mango Wines in Mareeba.